We looked around on various sites on the web for lakeside accommodation where Linda could have her home comforts and i could do some fishing. Shirkoak pods on a day ticket venue looked ideal with a fair price of £240 for two nights, booking was easy via message from their web site www.shirkoakfarm.com. A message sent to Sarah the owner who responded and confirmed my dates quickly.
Getting to Shirkoak
We left home for the short trip to Woodchurch, Kent on the 10th of May, looking forward to a few days fishing and relaxing in luxury by the lake. We made it on to the M20 where we had a puncture. We had left early to start fishing at first light, well that wasn't going to happen. With a heavy vehicle loaded with fishing gear, the jack didn't look safe with lorries thundering past and rocking the Freelander from side to side. So we decided calling recovery would be the safest option. With all the traveling we always keep our membership up to date.
Well after all the excitement of breaking down we finally made it to the lake at mid-morning. So much for not being far away. Sarah was on hand to greet us and give us access to the willow lakeside pod.  
Pod Accomodation

Well, I was keen to get fishing by now and left Linda to sort out the pod as only wives can do lol. First job was to make up the loose feed. I had decided to take the solid bag approach on this trip, something that has worked well for me on other day ticket fisheries.
Best Day Ticket Bait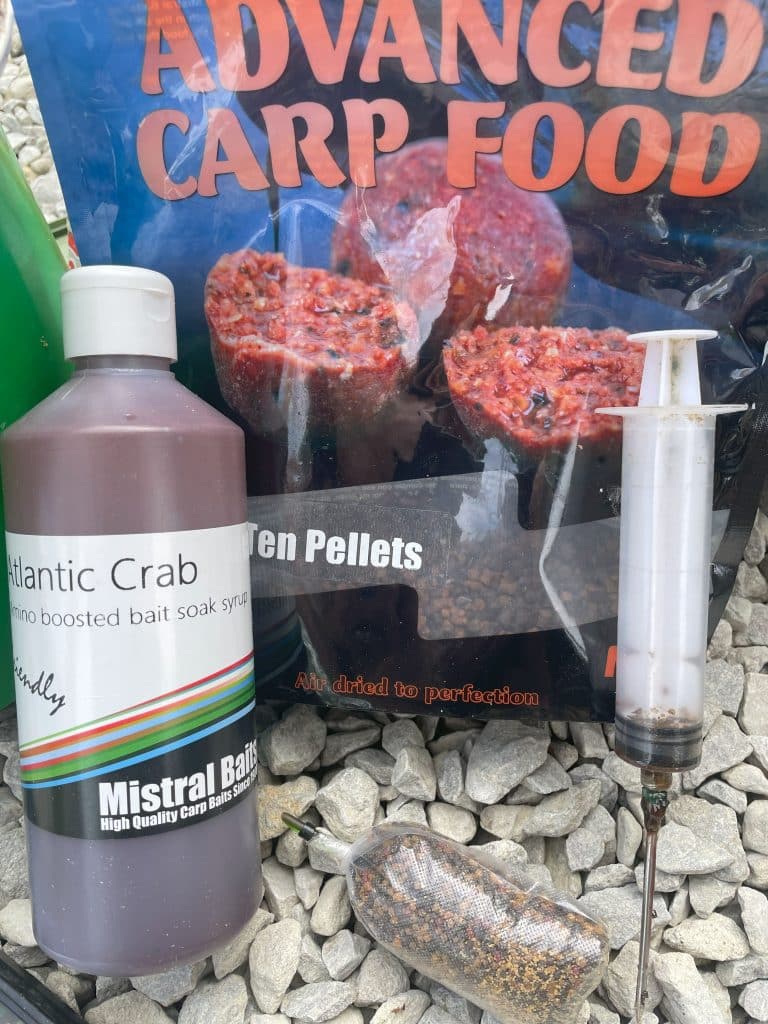 The loose feed mix consisted of crumbed boily from Mistral baits, the new Zest and Atlantic crab. Along with Ten pellet, also from Mistral with the added attraction of a tin or 3 of good old sweetcorn and sea salt from the supermarket. Then dilute some zest & crab bait, soak with lake water and give it a good old stir. With the feed now ready I spooned in into some likely margin spots where id already seen a few carp shapes in the murky water.
Time for a coffee and get the rods ready, I must say my new Skope rods from AR Tackle in Hastings are a real pleasure to fish with on these smaller, intimate lakes.
German Style Inline Fishing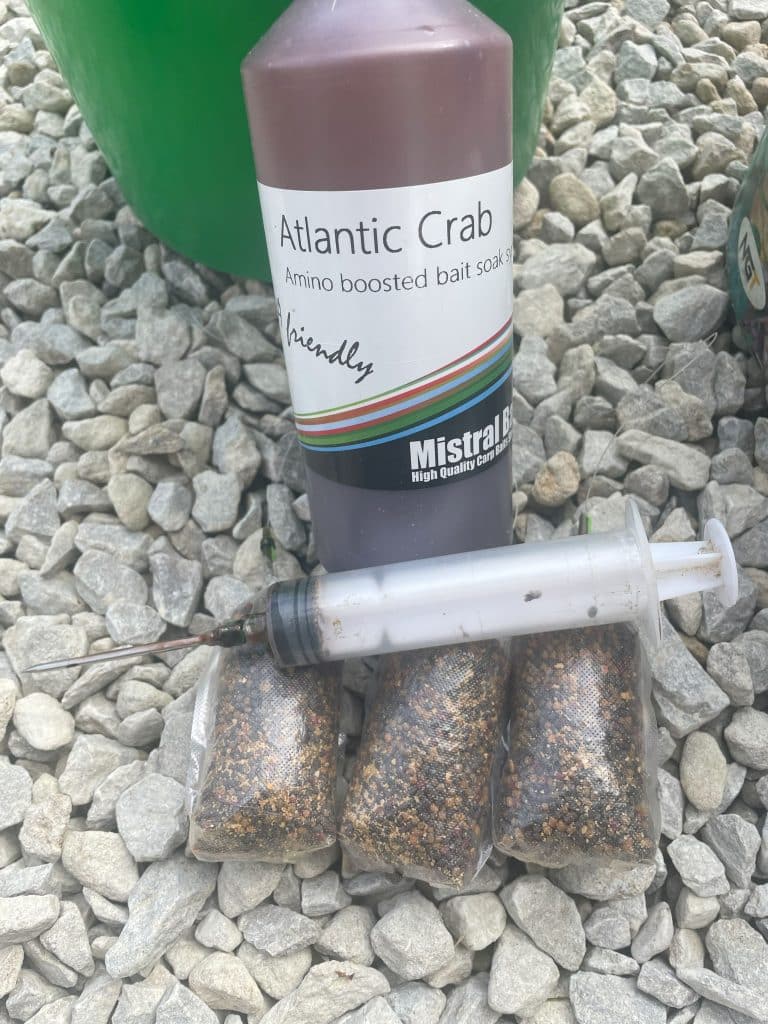 The rig consisted of a six inch braided hook length, fished German style into an inline lead with the ever faithful bungee giving great hook holds. Presenting a small 12mm wafter inside the baitworks pva bags, the best I've used filled with pellet and half a syringe with bait soak filling the bag.
First Catch
Three rods were positioned on the spots pre baited earlier and it wasn't long before i was into a hard fighting common of 15lb. The bites came regularly, with the same approach working a treat. As soon as I stopped putting in the loose feed and didn't re cast, the bite rate noticeably dropped. More loose feed, a new bag loaded with goodness would almost immediately produce a take. As with most waters, the early morning and evening produced the most action with the biggest Mirror of the trip coming just before dark on the first evening: A lovely looking fish just over the twenty pound mark. I was happy with that, there are a couple of thirties in the lake but you have to really lucky to hook into one of them on your first trip.
Highly Recommended
Most of the fish I caught were commons between 14 & 16lb in very good condition. We also caught a Tench over 6lb, but it wasn't all about the fishing, We had a lovely, peaceful stay in the pod with its own shower and kitchen area and comfortable beds. We went for a walk around the local countryside where many birds were going about their business in the sunshine in between the rain and thunderstorms. We would stay there again and would recommend it to anyone looking to take their wife or partner fishing with some mod-cons thrown in. Towels and toiletries are also provided.