Angling Photography
Just
back from an overnight carp
fishing session, Earlier I shared the success of another angler on the lake who had caught a lovely 35lb winter mirror in its full colours, he didn't have the knowledge or confidence to take the photos himself, so I was more than happy to help out with the photography and create some great memories with some decent photo's.
Self-Take Fishing Photography
I started taking my own photo's many years ago after letting a passerby take some pictures of a thirty. The photo's didn't do the fish justice and I was very disappointed with the results. It wasn't the fault of the gentlemen taking the pictures he was just doing as I had asked. But we all have an idea of how we would like the photo's to look like, these just didn't live up to my expectations.
Fishing Photography Equipment
So I got myself a tripod and an auto wind for my SLR camera. In those days I used two bank sticks to frame the picture. With the technology we have today it is far easier to take your own photo's and get the results we are all looking for. I will run through my procedure and I must stress this is just how I go about taking my self portrait. Firstly we need a cradle style unhooking mat as we may have to leave the fish unattended for a few seconds, a tripod and an easy to use digital camera with a screw fitting to fit the cable and bubble. My attachment on the camera is adjustable for any make, or you can buy cameras with a remote dongle. I prefer to set the bubble under my knee and keep my hands free to deal with the fish without any obstructions. Just bear in mind the fish always comes first, always always prepare your camera set up before you put the carp on your unhooking mat. This kit on eBay is quite decent:
fishing photography self-take kit
Fishing Photography Method & Process
Look around for the best spot to take your photo's, like choosing a good background. I tend to use the back of the bivvy at night, this tends to trap the flash light for better results. Set up the camera and bubble then take a few shots of yourself in the pose you want with the fish in your hands.
This process is the key to good shots
. All you have to do once you are satisfied with those photo's is collect your fish from the margins and again you must use one of the
new style retaining slings
, these are far better than the old style carp sacks for a short retention of your hard earned capture.
Carp Welfare
The real positive with taking your own pictures even in the dead of the night, our precious carp no longer have to be retained for hours on end while we wait for our mates to turn up to take the trophy shots. That should be a thing of the past after a few practice sessions. The best way to get good at this is go somewhere with a large head of doubles and just keep taking photo's until you find what's best for you.
Hope this helps.
Self Take Fishing Photography Update – May 2018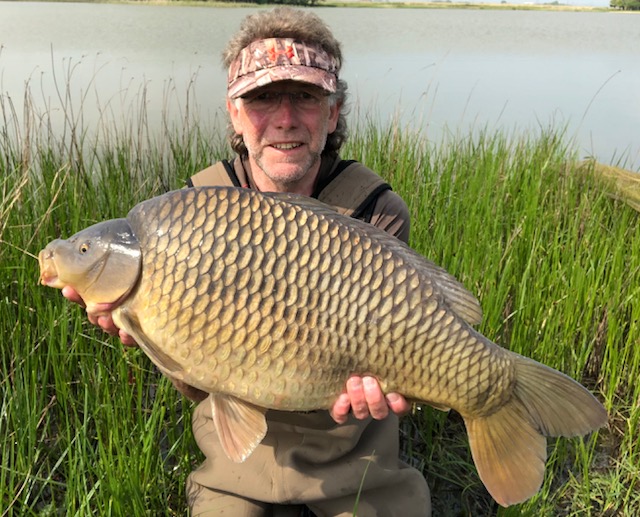 Was reading through this article, for our carp trophy shots, I realised that myself and technology has moved on. Since that article I've changed the way I take photos, I'm still seeing shots of fish on the unhooking mat because the angler is alone on the bank, with a bit of practice you can take quality photos on your own.
Fishing Photography on a Budget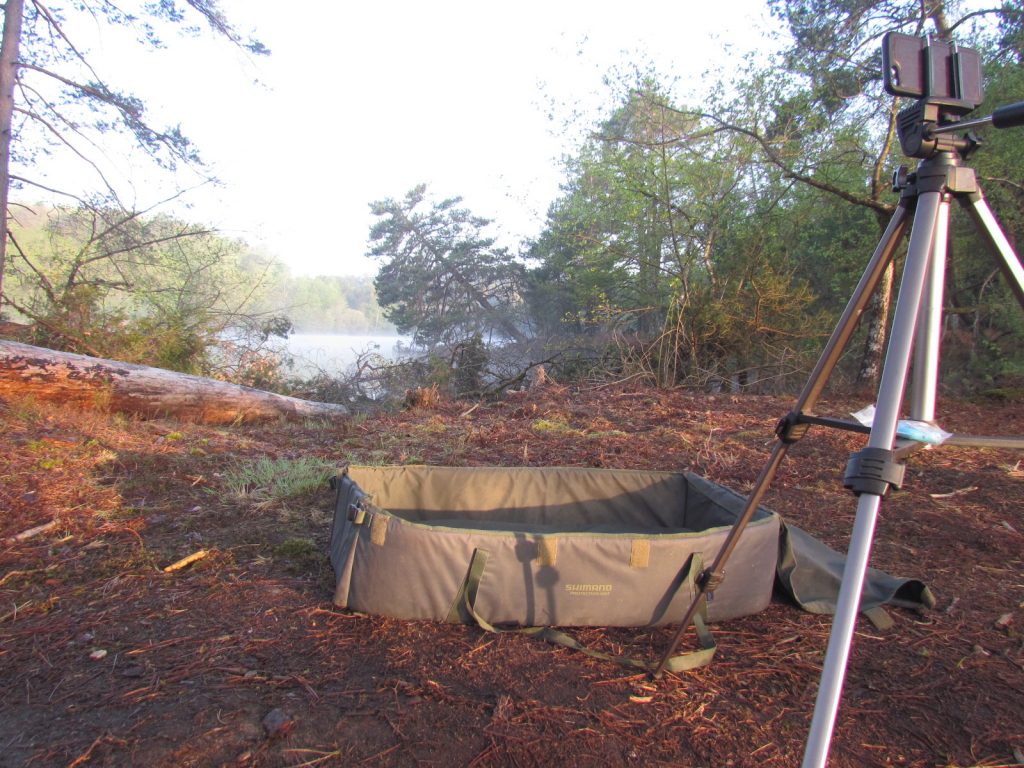 The tripod remains the same with an added adaption from a cheap selfie stick , using the thread on the tripod to attach a smart phone to the tripod. I've now got an iPhone 8 mainly because when taking photos in the dark this camera has a flash when your on selfie mode. My other iPhones didn't have this feature, so always had to use the camera and bubble at night. I've had the new phone a while now and the photos are as good as my camera, so using the tripod with iPhone pointed at me and the mat is now a very easy process.

Remote Trigger
I Use a cheap Bluetooth device in my fingers of my right hand when holding the fish up, the main advantage taking photos this way on your phone is you are able to see the image your taking. No more setting up and hoping you've got it right. I've bought the Bluetooth device in the range for £4 and about £10 for the selfie stick with the detachable holder again from the range. Old smart phones do the job in day light hours, so no need to go for the more expensive phone, but for me it's been worth the investment.
POV Carp Videography
It has been suggested to me that POV (Point of View) videos of an actual catch could give interesting results. I am considering getting a GoPro with 8 hour extended battery life and video capture time. Lots of dull footage before editing no doubt. But, if we can get a few catches on video, from the anglers point of view, that would be really valuable content. Watch this space.
Tight lines, Trev.