After many hours over the last couple of years I've been trying to re-catch a fish I had grown in my stock ponds at the water company reservoir where I worked. twenty or so years ago we stocked some spawned fish from our carp syndicate lake along with some little mirrors caught by my sons on their float fishing set up. It was a spur of the moment thing that grew over time and created many fish that now swim in some of our lakes in our corner of kent.
Moving Carp in Kent
Every couple of years we would remove the nice looking fish that had out grown the small stock ponds, some went back to the syndicate lake for restocking or to waters needing a boost nearby,these fish have a great pedigree growing to 50lb in the right environment.
So back to the pretty one. This fish at 18lb With seventy other fish of varying sizes were moved by me and my two sons catching them from the ponds to a Mid Kent venue to hopefully fulfil their true potential. A few years later I did catch the mirror known as the pretty one at mid twenty with some of the commons around the same weight. The years passed and news was filtering through that these fish had indeed started to become very big, so last year saw me back on the pit to try and recapture the lovely mirror and a big common that was stocked by mid kent around the same time as my fish.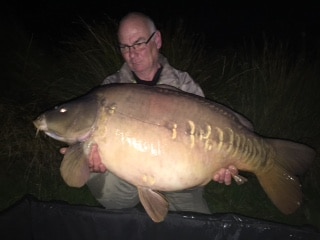 Catching Large Carp
That first year back was very productive catching some lovely fish to thirty six pounds, my brother in law Tim has fished the water for a few years now, late October came the call from the lake that Tim had caught the mirror, So I was only to pleased to dash down the lake to take the photos for what I believe is Tims Uk personal best at 46lb. My time came in mid September with a nice south westerly and the pressure dropping, my feeling was it was just a matter of time before something big was due. The bite I was waiting for came around 14:30 in the afternoon a little down in weight at 43 but being over forty was my only thoughts about catching the mirror again, a size 7 curve shank hook with a tied blow back rig with an 18mm bottom bait did the trick with a scattering of spirulina boilies supplied by Alan Parberry at Mistral baits after a discussion with him about the concept of this natural ingredient a few days before.
Fishing With Friends
The capture was so much more enjoyable with friends Jonathan with his children (Isla and Max) and Lee coming over to do the honours with the cameras and weighing. Since then I've fished a couple of different waters a big 300 acre reservoir and a small weed infested lake surround by trees and bushes making it difficult to fish, both challenges I'm enjoying, will let you know how I'm getting on in the next blog.