As I write this – my last Carptalk article for a while, the Christmas holiday period is in full swing. The heavy rain of a couple of weeks ago has started to make a difference, water levels rising by a metre on the Romney Marsh. The dry spell lasting a couple of weeks since then has encouraged more anglers on the banks across the county. Looking back on some of my old 'Grapevine' reports I was surprised that January two years ago saw the start of this column.
Carptalk: Winter Fishing in Kent
Since then winter fishing in our region has become more productive with the variety of club and day ticket venues being more accessible to everyone, and with more bait going in results do seem to be on the up. Talking about bait going in, I have been trickling in a few bits and pieces from the deserted banks of the Hythe Canal but as yet I've not yet wet a line in there.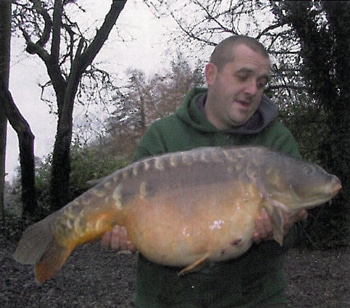 Carp Angling Bait
Simon Hayward, partner in the Tackle Tart bait and tackle shop near Whitstable sent in a Carptalk report to me. He has been field testing their new bait to good effect on an undisclosed lake nearby, taking four good twenties and a 301b 2oz common, which was caught fishing to decaying weed beds at 60 yards range. Simon describes the new bait as a fruity fishmeal exclusive to the Tackle Tart. Perhaps a visit to the shop might reveal the location of these captures!
Mid Kent Fisheries news now. I was speaking with Chris Logsden just before my deadline to get the latest Carptalk update, as anglers were on the lakes right through the holiday period. Chris gave me the details of this year's AGM, which is being held on Friday 12th March at Canterbury Cricket Ground, the same venue as last year. Guest speakers on the night are Lee Jackson, Dave Lane and Ian 'Chilly' Chillcott with a questions-and-answers panel. The evening is free to members with an admission price of £5 for non members. Ring the office on O 1227 730668 to secure your seat.
Overnight Carp Fishing
Just after my last Carptalk report Nigel Sladden, fishing overnight at Loggies Lake, landed two new personal bests in the same session: a 221b mirror followed by a larger specimen of 281b at 11 pm, again a mirror. Over the holiday period Loggies has fished consistently with at least two other 281b fish being landed along with several other twenties and doubles. Mainline Chilham has fished consistently well. Rob Langley landed five fish during a three­day session in One Pole, his haul consisting of fish weighing 241b, 251b, 251b, 271b and a mirror of 341b 2oz, all caught on Premier Baits' Matrix.
Bailiff Lee Mansell landed a mirror of 261b on one of his overnight sessions. I have had a couple of short sessions on here and found that casting at showing fish with snowman pop-ups has worked well. Chilham has been fished right through the Christmas period producing doubles and twenties almost every day to anglers all round the lake.
Tony Baker fancied a change from Chilham so he popped over to Stour Lake for the weekend and landed a nice linear of 271b 2oz at five in the morning. He described the conditions as "very cold".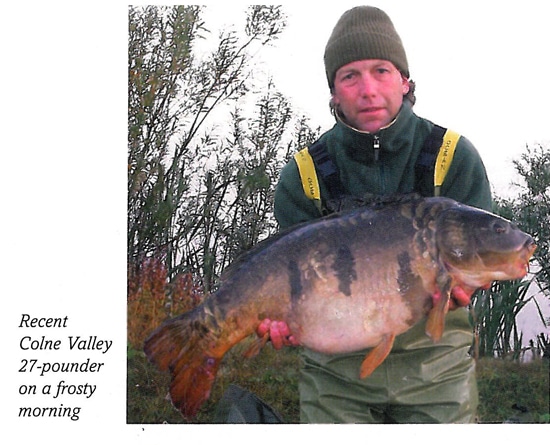 Hookstead Lake has also seen anglers on the bank right through the holiday. Clive and Lee from Tonbridge fished from Christmas Eve until Boxing Day, taking twenty­two fish, all doubles to 181b, between them on Richworth Complex and Fusion boilies. Local anglers have caught plenty of doubles and three twenties to 231b were landed on Boxing Day.
There is a small team of anglers fishing at Fordwich on the Canterbury Angling Club ticket, and fish of 251b and 281b have been landed in recent weeks.
Fishing for Carp in Mud Flats
At Nickolls Leisure work constructing a gravel barrow path around the Long Bay up to the Sign swim is almost completed, making access around that part of the lake a lot easier. John Whey took advantage of the new path, fishing 24 hours from the mud flats to take fourteen fish to 181b on Premier Baits' Monster Lobster. Kevin Rees and Pete Butcher, fishing overnight on Duck Island, took four fish each to 161b, again on Monster Lobster. Graham Loft also took four doubles from the first swim on the house bank to 151b on Mainline Activ-Maple-8. The new stock pond has also been dug near the yacht club ready for the stocking of mirror carp to the water.
Goudhurst Fishery
New to the Carptalk 'Grapevine' this month is Elphicks Fisheries at Goudhurst. This six-lake fishery is ideal for winter fishing with lakes varying from easy runs waters to specimen carp and catfish waters. Tom Barr, the fisheries manager down there, updated me with the latest news. Tony Killick from Crowborough has had two thirties recently from the prolific North Lake where there have been over 450 carp over the 201b mark caught this season. The good news here is that this formerly membership-only water was turned over to day tickets from the 1st January at £15 for a three-rod day ticket. Minimum tackle requirements are in force here so contact Tom on 01580 212512 for more information.
Another day-ticket water worth a trip in winter is the School Pool at Faversham with plenty of twenties and thirties to target. The word on the (Carptalk) grapevine at the moment is of some good captures this winter, contact Nick Prior at Faversham Angling Club for day ticket details on 01795 590024
I was hoping to include the Darenth Complex as another new fishery to the 'Grapevine' this month, but unfortunately, the report and photos did not reach me in time. Look out for that next time as Darenth holds some rather large carp.
News from Cottington Lakes this time is of very few anglers fishing before Christmas and only a handful of doubles taken by the few day-ticket anglers visiting the complex. I have been unable to find out if things have improved in recent weeks. So we will catch up with this venue next time.
Well that's about it for now I'm still a bit short on photos so if you have featured it would be nice to put some faces with the reports.
Cheers for now.
The above is a reproduction of an article first written by Trevor Ellse for the Grapevine column in Carptalk magazine.