This is a reprint of the Mid
Kent Fisheries Grapevine Column written for Carp
Talk by Trevor Ellse in 2009.
Mid Kent Fisheries Carp Angling – Grapevine 9
Welcome to another Kent grapevine, catch reports are increasing as the summer kicks in. I had a few calls recently as a response to the add in carp-talk for a Kent reporter, callers were asking if I was giving up writing which I'm not, the add was for another area bordering Sussex. There are still some waters closed for the close season but will reopen on 16th June. "that date does' not seem to have the same ring to it any more". I try to keep this column as up to date as possible so photos of all captures are impossible to track down in time to meet deadlines. If you have featured in the grapevine and your film is now processed please give me a call on 0777 170 2801. All photos are always returned within a couple of weeks. A new feature starting next time with the best capture not necessarily size can win £100 worth of products from the successful Mistral ready made bait range to enter all you need to do is catch a carp on one of the mistral products. My own fishing has been restricted of late due to work commitments, but did manage to catch a 33lb mirror on double mistral rosehip pop-up after a meeting at our syndicate lake in the Colne valley. Well let's crack on with the Mid Kent Fisheries catch reports.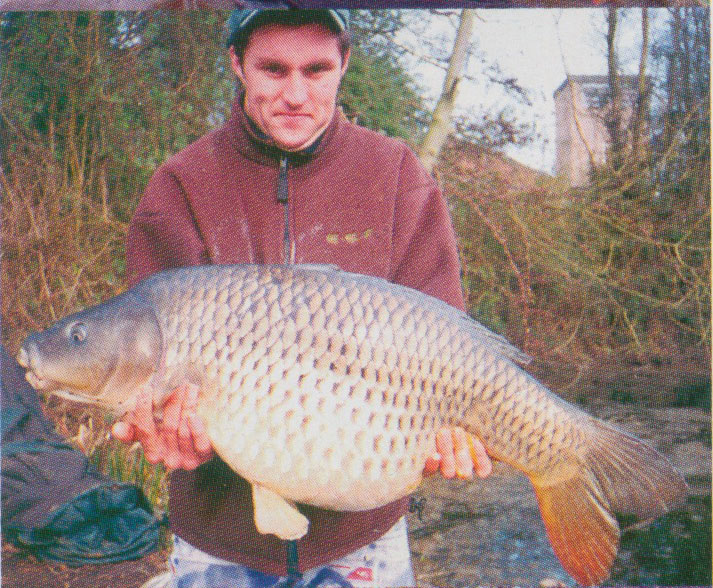 Chilham Mill
Mid Kent Fisheries Waters starting with Chilham Mill the latest round of the Korda British carp angling championships was won by two chilham regulars Kevin Reynolds and Paul Mason with a total weight of 287lb. Gary Searle and Adam Privet from GB Baits have put in a few overnight sessions fishing from Bailiffs- Island, field testing next years egg shaped crusty range. Fishing at 70m range towards the fallen tree over an 8kg pre-baited area with the new bait. The tactic paid off with both anglers having multiple captures. Gary caught seven twenties and thirties of 30.12 and 33.02 both commons and a mirror of 32.06.Adam landed a 28.08 mirror a 30.12 mirror along with a double figure mirror. All fish were caught on a snowman presentation critically balanced with twin eggs. After his success catching two English thirty-pound commons Gary commented "I wish all baits tested this good"
Stour Lake
Father and son duo Paul And Ashley Mason have had a run of success over the last couple of months with both taking fish to upper twenties on various methods using bun spice boilys from MAP. Tonford has fished well Tim Barnes had a 25 and a 22 on a short overnight session and local anglers are catching with at least two thirties in recent weeks. The Swan Simon Rigden from the Tackle Tart near Canterbury has had a run of success, fishing from work in his tackle shop. On overnight sessions recently taking the half lin at 31lb and a mirror known as the bream at 36lb both caught on a fish meal bait exclusive to the tackle tart.
Conningbrook just after my last report over the Easter weekend. Three fish were landed the linear at 36lb to the Doc and Tom Banks landed the friendly mirror slightly down in weight at 39lb. Since then a couple of new twenty- pound commons have been landed.
Nikolls Leisure
Nickolls Leisure The fish have started to move from the works area to the main lake. After a few multiple captures since my last report Roger Wilson landed eight carp to 23lb from opposite the mud flats on pellet. Kevin Rees had seven fish over a three-day period from the carpet swim. Kev has since moved out into the main lake for his last couple of weekend sessions catching sixty carp with forty-seven being doubles and three twenties. The successful method was pva bags filled with Premier fishmeal boilys. Bailiff Derek and son Darren Weller have put in a few overnight sessions from the railway bank. Resting up after some very long days working on new swims, taking two nice commons of 27lb and 29.12 to Derek and a 24lb common to Darren.Lee Rose fished one overnight session taking a personal best mirror of 29.06 along with eight other fish in double figures. Roger Wilson has put in another overnight session on the mud flats for 10 fish. Ian Norwood fishing day night session landed 10 fish two at 19lb and a 22.04 plus 3 doubles.
Stonar Lake
Stonar Lake has fished well reports of lots of doubles and a few twenties the biggest reported so far is 27lb.
Cottington Lakes Christine has fished very well. Barry standen and Mark shilling from Maidstone fished for a ten day period taking 34 fish 26 being doubles between them with a mirror of 30.02 and a 21lb fully scaled mirror being the highlights, all caught on dynamite source boilies and ball pellet. Alan Turner from Ramsgate fished for five nights taking 19 fish 16 doubles including a common of 21.06 and a mirror of 28.08.The new lake Pepper has produced three twenties along with plenty of doubles.
Well that's about it for now from Mid Kent Fisheries.