Colne Valley carp angling has been good as of late. The fine weather has lasted until October and as I write the rain has started to fall, unfortunately cold winds have been forecast bringing the mild weather to an end and signalling the start of autumn proper. I had my longest session for a very long time with four nights on a private Colne Valley carp lake with son Kevin.
Colne Valley Carp Angling at Conningbrook
Having spent all my available time on Conniningbrook I was a bit reluctant to fish anywhere else, but I am glad Kev talked me into it as we had a session to remember. The first fish was an 11lb common carp on Kev's rods soon after our setting up and settling down just after midnight. The first frost of the year was on our first night – that was a bit of a shock to the old system. I had to wait until the second night for my first fish, a 261b mirror carp.
The day was again slow so I was off around the lake to try and locate some of the larger fish we had come for. The fish were in the opposite margin on the back of the wind, so a move was on the cards. Kev then had a nice 21lb mirror carp out of our original pitch, but having located the bigger fish I was still on the move.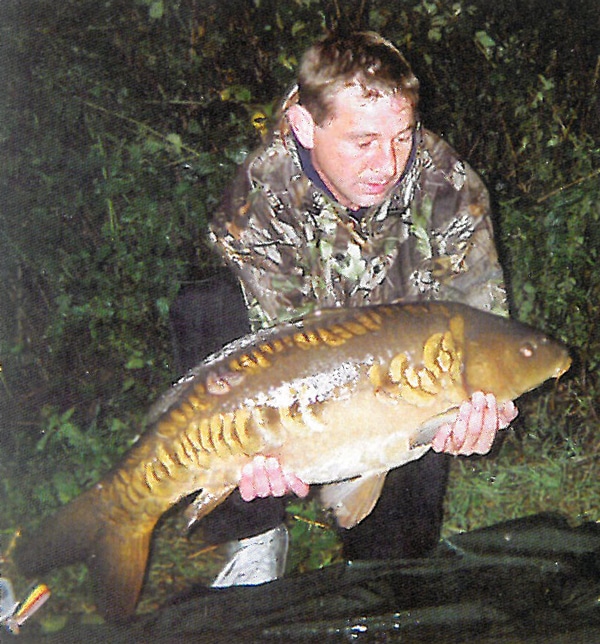 I got into my new area fishing holes in the weed at 20 to 30 yards range. After only half an hour I landed a 251b common and followed that up in the night with another of 261b. Just after first light yet another common of 21lb was in my net. After some breakfast and fresh baits on the spots, I was just about to catch up on some sleep when we were off again with the largest fish so far – a mirror of 29¾lb. This was turning into some session.
38lb Mirror Carp Catch
Working hard to locate fish and present baits without spooking them out of the area, I decided to bait up and leave the swim for a while, taking out all the lines as I still felt the bigger fish were in the area. I helped Kev move and locate some areas further up the bank, and after a couple of hours I returned back at my pitch and carefully put my baits back on the spots. After only 10 minutes I was in again and after a good fight to keep the fish up in the water out of the weed I landed one of the mirrors I was after – weighing in at a very satisfying 38½lb.
That was my last fish of the session but Kevin landed a common of 18lb as his reward for a last-minute move. All the takes came fishing over a crushed hemp and groundbait mix with ten to twenty boilies and double critically-balanced hookbaits on 201b Berkley Invisiline hooklinks. Kev's fish were caught on Mistral's Rosehip ready-mades.
News from Mid Kent Fisheries. A member has been banned from all waters after a large fish he had sacked up came loose and the fish swam off still inside. Efforts to locate the fish have been unsuccessful so far, and as a result of this incident sacks must not be taken on to any of the Mid Kent waters.
Colne Valley Carp Catch reports
Now on to the catch reports, starting at Mainline Chilham, which has been renamed to include the name of the Lake's new sponsor, Mainline Bait. Henry Hossain had nine fish from One Pole including the Long Common at 281b 14oz. Bailiffs Island produced eight fish to 331b just after my last report. Ian Murrfitt fishing out of peg 37 landed seven fish including three 30lb-plus mirrors of 331b 3oz, 311b and 30½lb, a 20½lb common, a 241b 9oz mirror and two mid doubles. Ian was fishing at 60 yards range with GB Baits X-Cute boilies. Mark Ledger also landed a 331b common on Activ-Maple-8.
Milton Pan. Following last month's success Tony Baker has landed the Capstone Mirror at 331b. A 371b common has been out but I have no other information on this capture. This venue has created a bit of interest of late with the reports of some good thirties being caught over the last couple of years.
Stour Lake is fishing well although it is still quite weedy. Lee Hiatt fishing on overnight sessions was rewarded with two nice mirrors of 2 llb 10oz and 25½lb. Both fish fell to a new bait on test from the Tackle Tart. Lee Warren landed the peach at 311b 10oz, one of the best looking fish in Mid Kent waters.
Conningbrook has been slow with only two fish caught in the last six weeks as I write. The latest capture fell to Steve the Taxi Driver with a mirror of 331b from the trees on a single hookbait.
Lake Christine at Cottington has continued to fish well. The best reported this month was Jason Smith with a 271b 10oz linear mirror, Andy Parnham with a 29¾lb mirror and Patrick White with yet another mirror of 31 ½lb. The Source ready-mades seem to be the most popular bait down there at the moment. Lake Pepper on the same site is still fishing well for doubles and the odd twenty. The biggest on there has been a 241b mirror.
Nickolls Leisure has continued to live up to its recent reputation as a prolific venue with more multiple captures. However, anglers do have to put some thought into location, baiting patterns and rigs to achieve the best results. It's not just a case of turn up, chuck 'em out and bag up. The larger fish have moved out into the Main Bay recently with quite a few twenties caught. John Way had one of the best returns in recent weeks, bagging seventeen fish in 30 hours including the Italian at 281b 2oz.Young Gilbert also landed a 2 llb 5oz fish from the hut area.
Well that's about all I have for this month, although the next few weeks should see some good captures coming in for next time.
The above article is a reprint of an article first written for Carp Talk Magazine by Trevor Ellse in 2003.