The Kent Carp Angling scene is turning to the Winter season now. Winter feels just around the corner as I put pen to paper to make some sense to this catch report, sitting on the banks of the Brook covered in overnight frost, a bit to early in October for my liking. The Banks are a bit quieter now some of the local regulars have embarked on their Carp tour for the winter.
Winter Kent Carp Angling
For many of us from now until Christmas can be some of the best fishing of the season. October has started well with three forties landed along the Stour valley, all Three fish were witnessed but photo's are still hard to come by for various reasons. So lets Start With Conningbrook only one fish out in recent weeks smudger was the successful angler landing the friendly mirror at 40lb 12oz. Fishing is difficult at the moment with rafts of dying weed floating through your lines making it impossible to hold bottom in strong winds.
Stour Lake has fished well with plenty of twenties landed. First night on tour Paul Forward landed the Peach at 34lb and then followed up the week after with a 25lb Linear.
Simon Bates landed a linear of 27lb.A 26lb Heavily scaled mirror was also caught by either Keith or Aaron.
Chilham Mill has also fished well with some good multiple catches; Stephen Pithers had success landing a 30.04 mirror and a 26lb common to john Baker baits. Neville Horsefield had four twenties to 26lb from the bailiffs swim. Lee Preston fishing from no hope landed five fish four were twenties to 25lb.Wayne Penfold had a 30.10oz common from the Snags. Ian Murrfitt has being doing well with his best fish a common of 31.06. Lisa Coombe's landed a personal best common of 27lb. Kent carp angling fisheries manager Chris logsden landed a mirror of 20 plus just to prove he can still catchem !
Milton Pan Tim Inkpen had the saddle back common at 41lb 08oz unfortunately the film in his camera was faulty so no pictures. Dave Dury landed the Capstone mirror at 41lb 06oz again no pictures as yet. Another fish of 38lb also landed here but not sure who caught this fish. Most of the fish coming out are the recently stocked fish from Capstone.
Not many of the originals have seen the bank in recent months. Milton Handle has fished well with lots of twenties being caught.
Over on Swan the best fish out was to Darren Hall a mirror of 35lb. Tonford is still producing some twenties. Fishing should become easier now the weed has started to die back on these lakes.
Nickolls Leisure has fished well, top rod at moment is Kevin Rees fishing for a week on the works point he landed fifty one carp forty six doubles eight twenties to 24.12 and the best of the week a 31lb Common. Derek the bailiff has had a couple of twenties. The Main Lake is fishing better and worth a visit as winter draws in. The new club hut is up and running with water and electricity now laid on. The house bank now has access from the bottom car park for wheelbarrows to all swims on that bank.
Cottington Lakes a few changes taking place here Paul Robson has moved on. Tony Long with partner Trevor Randall have moved their East Kent carp angling Tackle business from Sandwich to Cottington. A well-stocked tackle shop will still be available to visiting anglers. On the fishing side lots of doubles out, the biggest reported a 29lb mirror.
Fordwhich jock White has been on the water recently reporting the fishing is slow with only a four doubles being caught in recent weeks.
Hookstead lake near Ashford has fished consistently with fish to mid twenty. This water is one to head for when winter sets in. Call Dave Rolfe on 01233 663499
Ballast Pit Kent Carp Angling
Since the Cinque Ports angling society lost the rights to angling at the ballast pit they have taken over at Beachborough lakes near Folkestone. The syndicate that controlled the water have moved over to the society. There are two lakes on site the smaller one holds grass carp ranging from fifteen to twenty one pounds caught this season, plus mirrors and commons to about eighteen pounds. The larger lake holds mainly commons with some larger mirrors to around the twenty-pound mark. This is the only water I know of with some genuine common wildies to around 10lb, the stock has been added to with the introduction of a few doubles and twenties over the years. The largest fish to date this season is a common of 20.08.
Boily and Nut Ban
This water has a boily and nut ban in place, but other methods still produce plenty of takes. This water has produced for me in the past fishing in winter on light tackle with cat ice stretching across the lake. The Hythe canal is also run by cinque ports, and in conjunction with the local council has undergone a major face lift creating parking and walkways in some of the more rural area's, The next stage of the project is the dredging of around 5miles of water starting in October. More news on that next time. The canal holds a good stock of carp to over 30lbsWith lots of twenties and doubles and again fishes well in winter when shoals are located. For details and membership and day tickets contact Billy Usher on 01303 891450.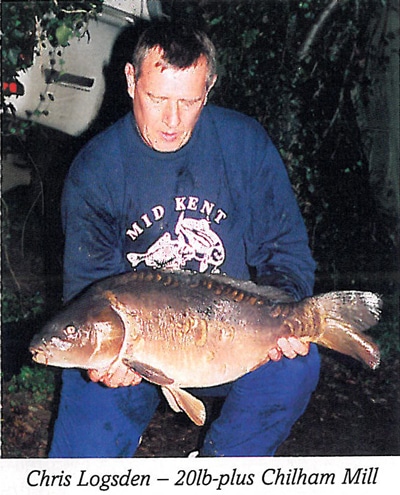 The above is a reprint of an article first written by Kent Carp angling journalist Trevor Ellse for Carptalk magazine in 2003.